Concert annuel 23 novembre 2019 : Blue Swing passe à table !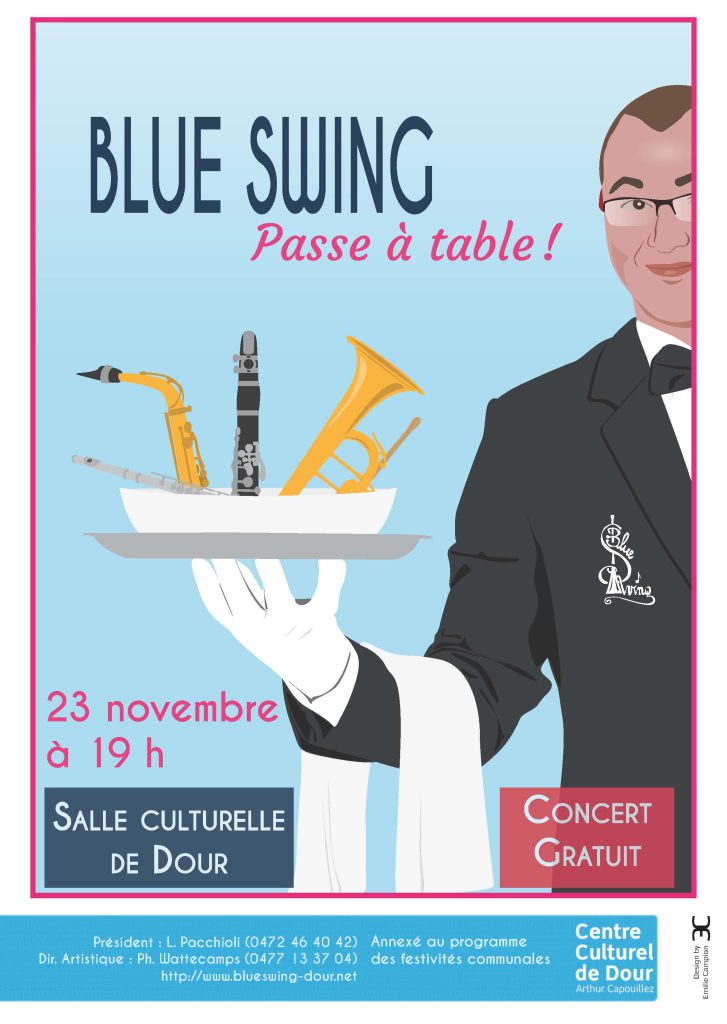 Moonlight Serenade
Tequila
Aperobic
La soupe auc choux
L'aile ou la cuisse
Rock'n'Dollars
Ketchup Song
Mistral Gagnant
Les tartines
Just a Gigolo
C'est si bon
Banana Split
Tea for two
Gloria
J'ai bien mangé, j'ai bien bu
Concert annuel novembre 2018 : Blue Swing fête son 30ème anniversaire
Mission Impossible
Abba Gold
De Funès Cha-Cha
Sway
My Way
Harry Potter And The Philosopher Stone
Le Chanteur de Mexico
Hava Nagilah
Ali Baba
Gonna Fly Now
La Soupe Aux Choux
La Bonne du Curé
Johnny Halliday (medley)
Les Lacs du Conémara
Rock Amadour
It's now or never
Les Cactus
Baïla Morena
Vamos a Salou
DayDream
Rock Around The Clock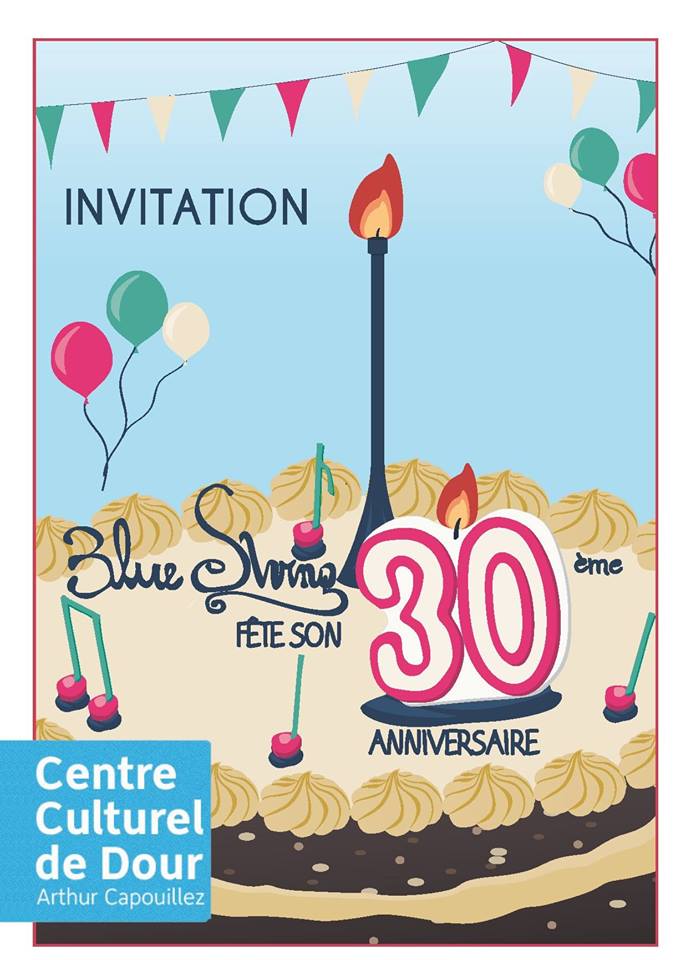 Concert annuel novembre 2017 : What Did You Expect ?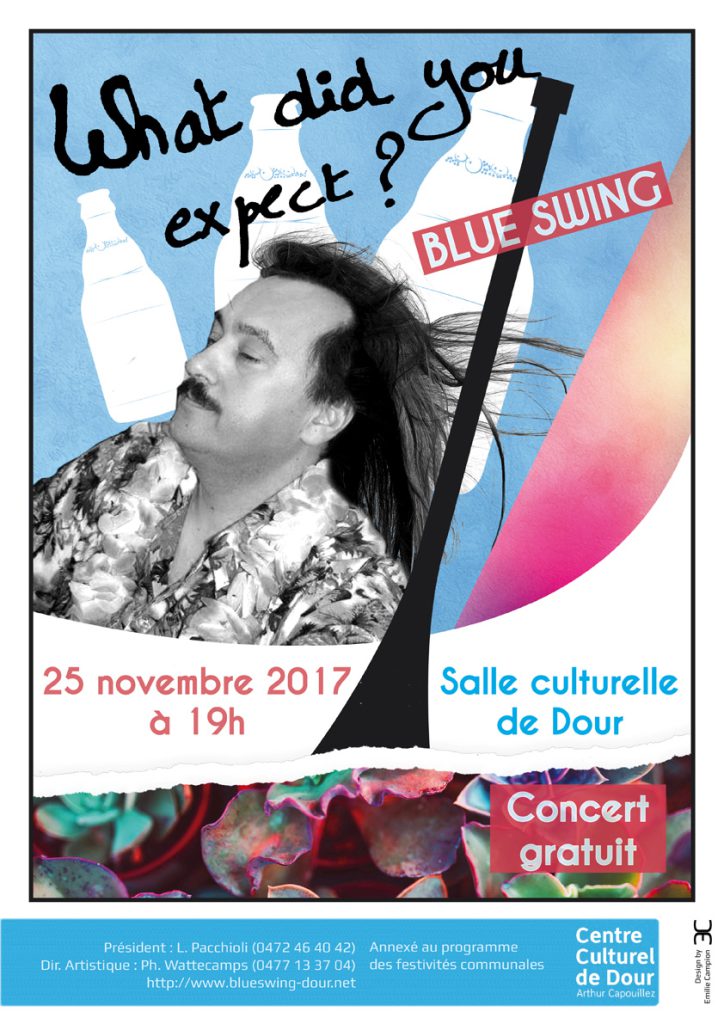 Le Lion Est Mort Ce Soir
Douliou Douliou Saint-Tropez
Lemon Tree
Le Tombeur
The Police On Stage
Primitif
Le Vent, Le Cri
Minnie The Moocher
Everybody Needs Somebody To Love
The Best Of Charles Aznavour
UpTown Girl
L'Apérobic
My First, My Last, My Everything
Viva la Vida
Concert annuel novembre 2016 : Let the Music Play !
The Winner Takes It All
Money Money Money
Amicalement Vôtre
Voyage Voyage
Le Corniaud
Homeless
God Save The Queen
Le Tombeur
Du Rhum, Des Femmes
The Boney M Mega Mix
Je Vais à Rio
My First, My Last, My Everything
Let The Music Play
Les Sardines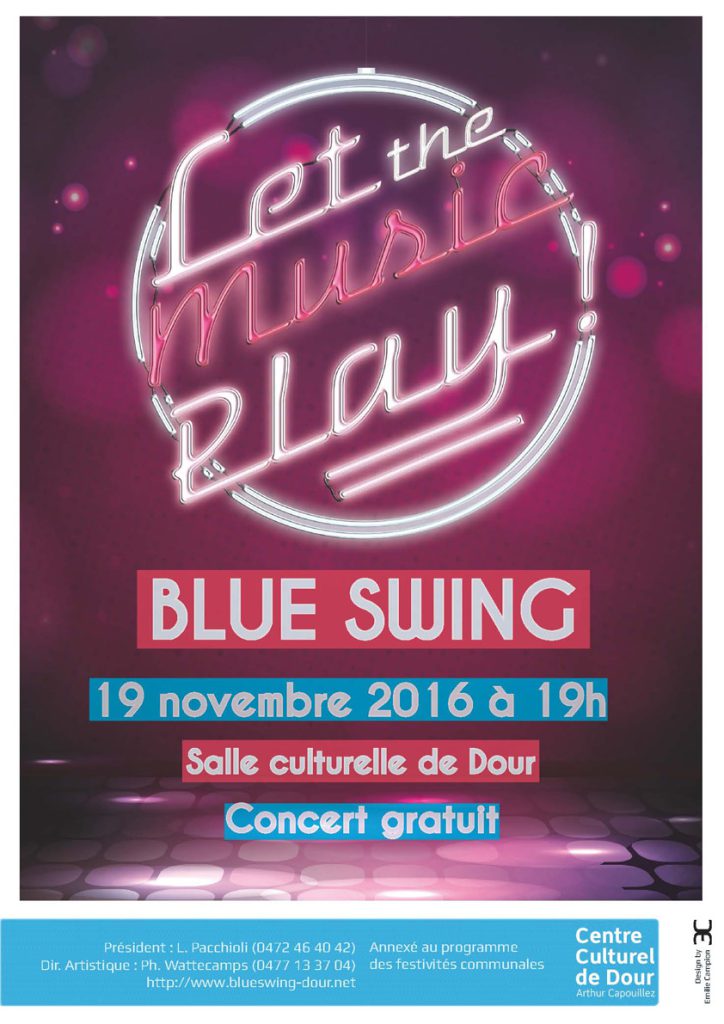 Concert annuel novembre 2015 : Blue Swing Joue Les Stars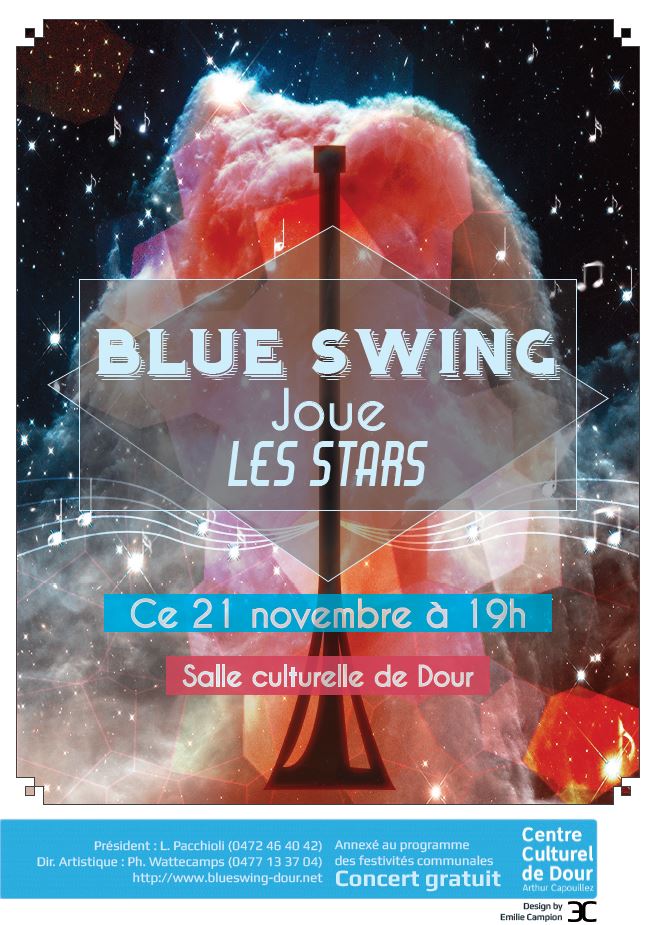 Get Lucky
Baker Street
Save the Last Dance For Me
Sway
You Can Leave Your Hat On
Mika
Dès que le Vent Soufflera
Singing In The Rain
La Folie des Grandeurs
Le Jerk
Tom Jones In Concert
Pas de Boogie Woogie
Live and Let Die
Concert annuel novembre 2014 : Blue Swing, What Else ?
Peter Gunn Theme
Can You Feel It
The Lady In Red
Does Your Mother Know
Désenchantée
Germaine
I Just Can't Stop Loving You
New York New York
Rosalie
I Was Made For Loving You
Game Of Thrones
Satisfaction
Le Portefeuille d'Elio
Coldplay : Viva La Vida
Magic In The Air
I Just Can't Get Enough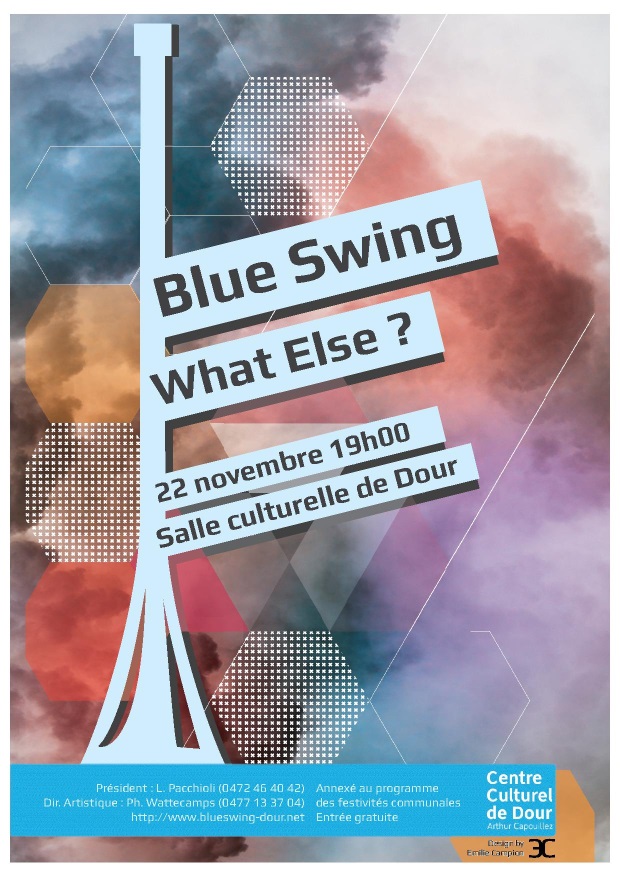 Concert annuel novembre 2013 : 25ème anniversaire !
Another Brick In The Wall
En Avant Marches
Television Showcasew
Love Me Tender
Can't Help Falling In Love
Hasta Siempre
Rockamadour
Les Cactus
Life Is Life
Pretty Woman
Fly
Kim Wilde – Ahaa
Jules César
Viva Mexico
With Or Without You
It's Now Or Never
Vamos A Salou
Torremolinos
Just Can't Get Enough
Medley Pierre Rapsat
Les Filles Du Bord De Mer
La Salsa Du Démon
Concert annuel novembre 2012 : Amis pour la vie
La Bamba
Reggae Night
Nah Neh Nah
La Camisa Negra
Ketchup Song
Je viens du Sud
Ai se eu te pego
Balada
Ali Baba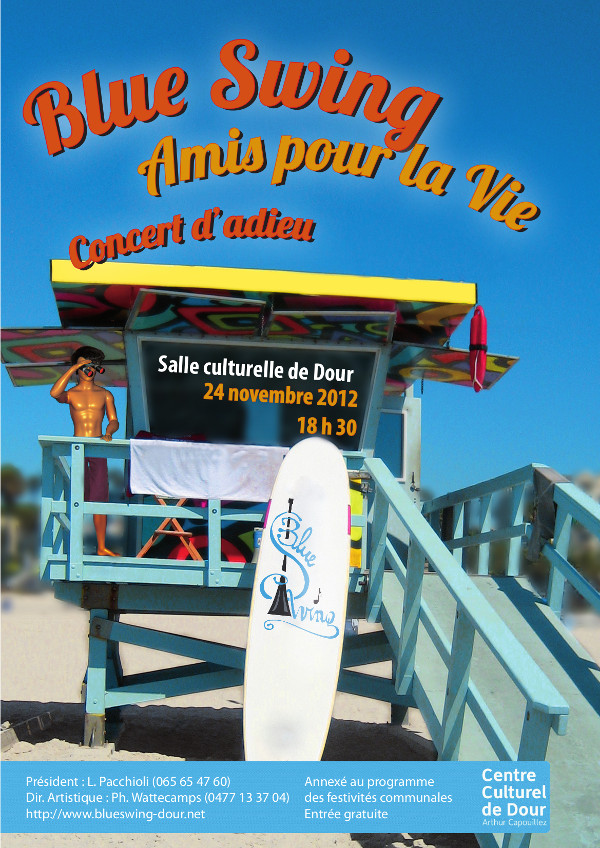 Volare
Objection
Samba de Janeiro
Vamos a Salou
Baila Morena
Concert annuel novembre 2011 : Un crooner chez les bronzés (Sun & Crooners)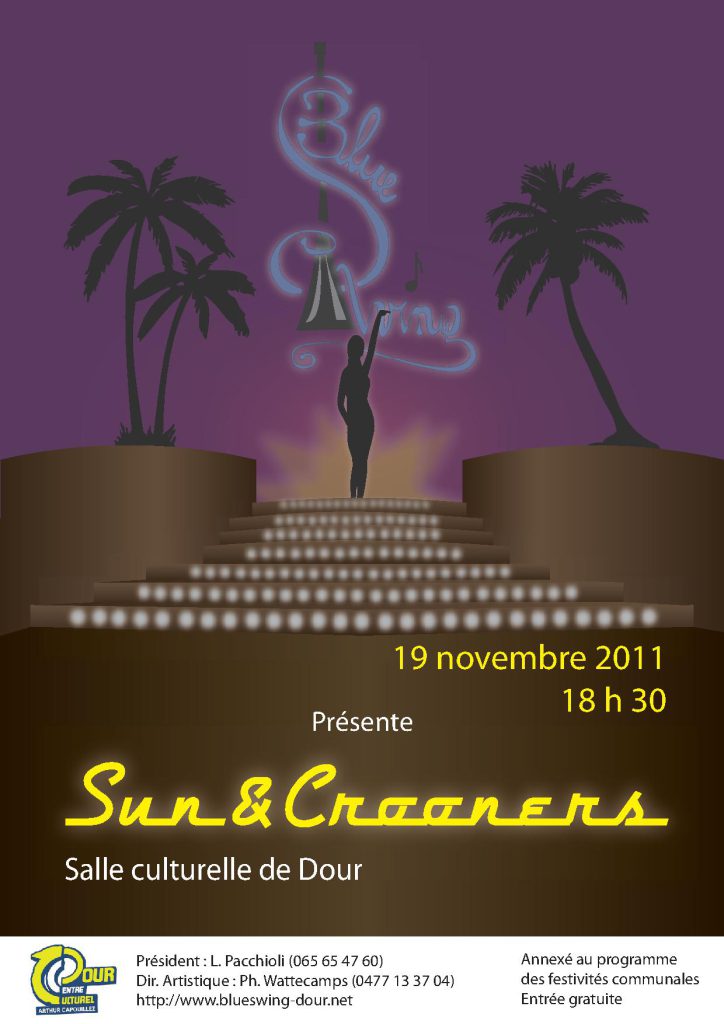 La Cucaracha
Tequila
Everybody loves somebody sometime
Tico-Tico
Hasta Siempre
Mack The Knife
Vamos a Salou
Africa
I've got you under my skin
Amor de mis amores
Pourquoi �a pousse pas ?
O sole mio
…
Programme 2010-2011 : Aaah ! Je ris de me voir si Belge en ce miroir
Brel – 1962
Bluesette – Jean « Toots » Thielemans – 1962
Banana Split – Lio – 1979
J'aime la vie – Sandra Kim – 1986
La Bonne du Curé – Annie Cordy – 1974
C'est ma vie – Salvatore Adamo – 1975
Batumambe – 1986
Jules César – Le Grand Jojo – 1982
Sensualité – Axelle Red – 1993
Fly – Machiavel – 1980
Torremolinos – Sttellla – 1992
The way to your heart – Soulsister – 1988
DayDream – The Wallace Collection – 1969
Tintin
Les Schtroumpfs
Tropique
Alors on danse
Sanomi
Too late tonight
Tata Yoyo
Kingston
Charlie Brown
Ye-na-na-nah
Les filles du bord de mer
Dominique
Medley Pierre Rapsat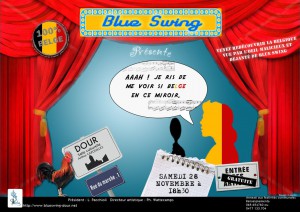 Programme 2008-2009 : On n'a pas tous les jours 20 ans !
Pour nos 20 ans, nous avons composé un concert de reprises de nos meilleurs moments :
Attention Mesdames et Messieurs (Michel Fugain)
I Got You (James Brown)
Heal The World (Mickael Jackson)
Beat It (Mickael Jackson)
Black Or White (Mickael Jackson)
Thriller (Mickael Jackson)
Les Bronzés font du ski
The Love Boat
Chapeau Melon et Bottes de Cuir
Dallas
Magnum
Starsky et Hutch
West Side Story
Le Gendarme se marie
Le Gendarme de Saint Tropez
La Soupe aux Choux
Love me tender
Can't help falling in love
We'll will rock you
Love in America
My Way
Les Petits Papiers
Le Tourbillon de la Vie
The House of the Rising Sun
Le Chemin de Papa
Grease
Pretty Woman
Poupée de cire, poupée de son
Les Daltons
L'Amérique
Tennesee
Laura
Noir c'est noir
Suspicious Minds
It's now or never
Le chanteur de MexicoRock around the clock
Programme 2006-2007 & 2007-2008: Les années 1980
Quand la musique des années 80 se joue au présent…
Si pour vous, vivre la décennie 80 se conjugue au passé, c'est que vous n'avez pas encore découvert le pouvoir magique du BLUE SWING. Plongez dans notre bain de jouvence musical et les 80's ne seront plus un souvenir.
Rappelez-vous, cette époque ou les stars s'affichaient en couleurs flashy et en leggings fluo très moulant, ou les starlettes, les cheveux en pétard, décollaient sur de véritables petits bijoux kitsch et rythmés…
Un petit air d'A-ha en tête, des effusions de couleurs, des sons synthétiques, quelques mélodies langoureuses ou endiablées vont vous replonger vingt ans en arrière dans l'ambiance des 80's.
Merci à Paul Campion pour le travail de préparation des séquences.
Thriller
Viva La Vida
La Soupe Aux Choux
Evidemment
Kim Wilde ? Ahaaa !!!
Right Here Waiting
La Salsa Du Démon
Mc Gyver
Another Brick In The Wall
Dès Que Le Vent Soufflera
Alive And Kicking
Shanana
The Final Countdown
Celebration
Super Trooper
Lay All Your Love On Me
Stop the Cavalry
Always On My Mind
Retour Vers Le Futur
L'encre de Tes Yeux
YMCA
In The Navy
Lambada
I Just Can't Get Enough
Rock Amadour
Quelque Chose De Tenessee
Les Lacs Du Connemara
With Or Without You
Life Is Life
Hey Baby
Programme 2004-2005 & 2005-2006 : Le Blue Swing fait son cinéma
En avant Marches !
Où est donc passée la 7ème compagnie ?
Le retour du Grand Blond
West Side Story
L'Aile ou la Cuisse
Jeux Interdits
Le Père Noël est une ordure
Benny Hill
Le Professionnel
The Mission
L'Exorciste
James Bond 007
Robin des bois
Le chanteur de Mexico
Les bronzés
Tequila
Television Showcase
Docteur Jivago
Tea for two
La ballade de Jules & Jim
Zoom sur Cosma
Un homme et une femme
Harry Potter et la pierre philosophale
Louis De Funes Cha-cha
Rencontre du troisième type
Thunderball
Can't help falling in love
Best of the 80's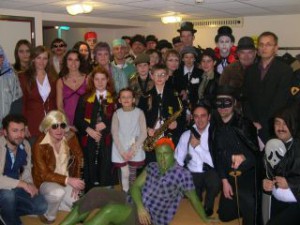 Programme 2003-2004 & 2002-2003 : Les années 70 !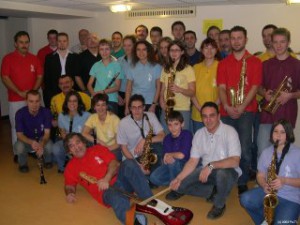 Ce matin
Ob-la-di-bla-da
Just a Gigolo
Fame
Y.M.C.A.
Yesterday
Magnum
Popocatepetl Twist
Copacabana
Les Cactus
Gloria
Queen in Concert
Love Boat
Le gendarme de Saint Tropez
Can't take my eyes off you
Joe Dassin Melody
Le gendarme se marie
La plus belle pour aller danser
I will survive
My way / Comme d'habitude
Grease
Il jouait du piano debout
Le Jerk
Abba Gold
Johnny Halliday
Signé Gainsbourg
Rivers of Babylon
It's now or never
Music
Chapeau melon et Bottes de cuir
Rock around the clock
…